Bringing Alicante's traditional Mediterranean cuisine to the world
The province of Alicante is a place of marked contrasts between its coastal and inland areas, contrasts which also find their way into the culinary realm. This is the origin of many of the dishes and products that hold great cultural value for the people of Alicante. Here traditional Mediterranean cuisine embraces recipes based on a wide variety of regional products, which have been passed on from generation to generation, with a bit of sea and a bit of mountain gradually finding their way into every bite.
This is why we, at Belvedere, turned to Alicante's traditional home cooking for the dishes that best represent our local cuisine so that the whole world could enjoy them, in this post and on our menu.
Pericana
Pericana is a famous sauce in the region. This century-old recipe is rumored to have originated among the farmworkers of the era who ate it after a hard day's work. These days it is usually spread on toast or enjoyed on its own.
Pericana has made the list of traditional Mediterranean sauces, where it challenges romesco for the top spot. It consists of a mix of olive oil and dried pimiento, known as cuarnets, combined with salted fish.
Given the province's maritime and fishing tradition, pericana is usually made with dried salt cod or poor cod.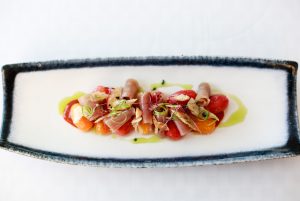 Tuna Mojama
Salting is a traditional method of food preservation that consists of curing or drying with coarse salt. In coastal areas like Villajoyosa, a wide variety of fish are salt cured, resulting in typical products like tuna mojama.
Mojama is made from tuna loin, which is salted and then left to sit, wrapped in damp cloths, for a couple of days, before being sun dried for approximately 20 days. Served with a drizzle of olive oil and some dried fruit and nuts, mojama is an exceptional treat and an essential product of traditional Mediterranean cuisine.
Rice
Rice is a staple, not only in Alicante, but throughout all of Valencia. It has come to symbolize the region both nationally and internationally, and there are many ways to prepare it. Alicante is famous for its arroz a banda (a simple rice dish slow-cooked in fish broth) and arroz con costra (a meaty oven-baked rice topped with an egg "crust"), to name a few.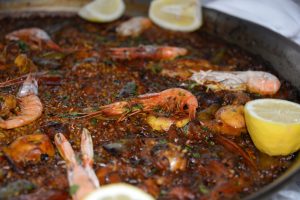 All of these rice recipes have humble origins. In the past, arroz a banda was typically made by fishermen along the coast of Alicante, whereas arroz con costra is a traditional dish from the region's interior, an area also famous for olla de blat (a hearty stew of wheat grain, beans, meat, and chard) and pelotas de dacsa (meat and corn flour dumplings).
At Belvedere we always work with locally sourced products, and we love to include signature recipes of Alicante's traditional Mediterranean cuisine in our cooking. Pericana, mojama, and rice dishes are regularly featured on our menu. But if there is one thing that stands out in every gastronomic season, it is the fusion of sea and mountain fare, a precise reflection of the idiosyncrasies of a region that is rich inside and out.